Happy 7th Birthday, Barnabas Vision!
Barnabas Vision celebrated its 7th birthday on August 1!  May God guide us and be glorified as we enter a new year of service at Barnabas Vision. 
Seven years ago, July 31, 2011 was my last day working at North Boulevard, after having been there since 1997.  I served first as an intern, then as a missionary, followed by being a minister there for two years.  On August 1, I started my first day with Barnabas Vision.  Where God has led this ministry is incredible.  I am humbled by the generosity and support of this community. 
So many things have happened that I could write about.  Seven years ago I would never have imagined being a part of Servant Heart projects where 30 children and parents come together each 

Tuesday

 in the summer, would never have imagined that on average we would give out almost $1,000 per week and sometimes more to help with various needs.  I would not have imagined the visits in nursing homes and so many other things that God has accomplished. 
I am forever grateful for the people that help make Barnabas Vision a reality.  We continue to look to God as we go forward. 
Please pray for those who we will serve, specifically that our clients feel cared for and encouraged by Barnabas Vision.  Please pray for our amazing volunteers, staff, officers and board of directors.  Please also pray that lives will be changed through Barnabas Vision and that we can be a light to the Murfreesboro community. 
May God be glorified in all that we do.  We lay this ministry at the feet of Jesus, asking for guidance and protection in what we do.
With many thanks,
David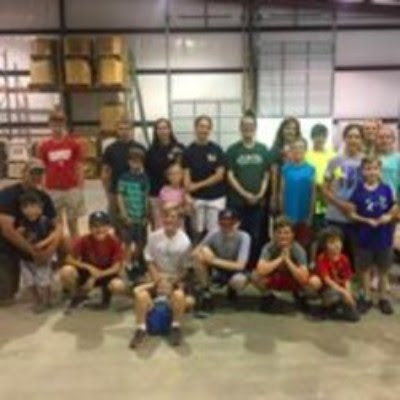 This summer we had such a great turnout with our Servant Heart Project.  We served at nursing homes, Meals on Wheels, Stepping Stones and Good Shepherd.  We also went to police stations and brought them cookies, had a picnic with Journeys in Community Living, helped at Feed America First and served Barnabas Vision clients.  It could not have been done without our volunteers, who took time out of their schedules each week to help us serve the community. 
We received some thank you notes from the organizations we helped.  Journeys in Community Living wrote:  "Thank you so much for hosting the picnic for our individuals.  Our folks had a wonderful time.  You and all your staff and volunteers were extremely kind and gracious.  We appreciate your generosity." 
The Rutherford County Sheriff's Office wrote:  "Thank you so much for delivering delicious, decorated cookies to the sheriff's office.  We enjoyed the sweet treats." 
We hope that it was a summer of growth and learning for the children and adults involved, and that those we served felt "Loved by Jesus and Encouraged by Barnabas".
Volunteer Open House Lunch
Barnabas Vision is hosting a Volunteer Open House Lunch on

Wednesday, September 26 from 11:00am-12:00pm.

  This is for all of our volunteers who have helped serve in any capacity.  Whether you brought food for an event, came to our Servant Heart Project, bought school supplies, or anything in between, we would love for you to join us!
We love and appreciate our volunteers, and everything we do would not be possible without your help throughout the year!  This open house lunch will be a great time of fellowship.  A light lunch will be provided and you will get a chance to see our new location if you have not already.  This is a come and go event, but please RSVP if you are able to come. 
Barnabas Vision, thanks to generous donors, is able to assist those in our community needing help with rent and utilities due to various crises in their lives.  In July we came to the aid of 23 people (57 including their families) with a total of $5,651.
We seek to develop ongoing relationships with our clients and many of their stories touch us personally.  One young man, only 19 years of age, had lost his mother in January and had been living in his car.  We helped him with the deposit he needed to get into an apartment.  He had been through so much, so young, and it was such a blessing for us to help him.
School Supply Give-Away
Thanks to donations, we collected school supplies that have been given to students who live at Rutherford Pointe in LaVergne, as well as some of the children of our clients. Thank you for helping us get over 100 students off to a great start this school year!
Adopt A Grandparent
Our Adopt A Grandparent program is designed to enhance and enrich the lives of individual residents living in nursing homes, assisted living and senior living facilities. The mission of the program is to create meaningful, one-on-one relationships with residents that will improve their quality of life.
Volunteers are matched with residents who have similar interests. A volunteer "adopts" a resident as his or grandparent or friend. Once the volunteer is matched, the program requires that the volunteer visit or contact the senior citizen a minimum of once bi-weekly.
Coping Skills Classes
We continue to give coping skills classes on Thursdays from 9:30-10:30 am, with good results. Topics covered include anxiety, depression, stress, grief and anger. Many of our clients have told us how helpful the classes are to them.
Mental Health Court
The Mental Health Court works to assist mentally ill offenders manage their illness, become law-abiding and improve the quality of their lives. Participants are evaluated weekly for progress. This program works in tandem with other local mental health and charitable service agencies. Participants are expected to show improvement in their condition to advance through the program phases while adhering to their clinical treatment plan. The average duration of the program is 12 months.
We celebrate with the Mental Health Court graduates by giving them Barnabas Vision bags full of thoughtful Christian gifts. We provide them with a Bible, Bible cover, mugs and T-shirts. We would appreciate donations of items to add to the bags such as devotionals, journals, Bible highlighters, bookmarks, book tags for their Bibles, magnets, key chains, etc. We are also always thankful for cash donations.
As Barnabas Vision celebrates seven years of service and growth, we are so thankful for your encouragement to us, your prayers, your donations…we could not continue to serve others without them. Thank you, and may God bless you as He has blessed us.
Please Continue to keep The Barnabas Vision in your prayers.
The Barnabas Vision is based on encouragement, and the best place to receive this is from above, so please join us in being prayer warriors today:
~ Our work: Pray for us as we meet individuals, work in nursing homes, in the hospital and with other organizations, that we will be able to make a lasting difference for the future.
~ Our finances: Please pray we will have enough donations to be able to continue all the good work that has been started and be able to help with the many financial requests we have each week.
~ The people we meet: Please pray that the Barnabas Vision will encourage the clients to move on to a higher level, to be able to get back on track with life, and enjoy the life God has blessed them with.
Our Staff:
David Coggin, Executive Director/Community Minister
Lori White, Administrative Assistant
Laura Minchey, L.I.F.E. Coordinator
Madison White, Intern
Maria Coggin
Sign Up Today to Receive Our Monthly Newsletter!